13.00% Buyer's Premium
This Auction Uses Proxy Bidding.
Ended
Lot of Spare Parts for Motorola 800Mhz Smartzone 4.0 Public Radio Platform
City of Miami Beach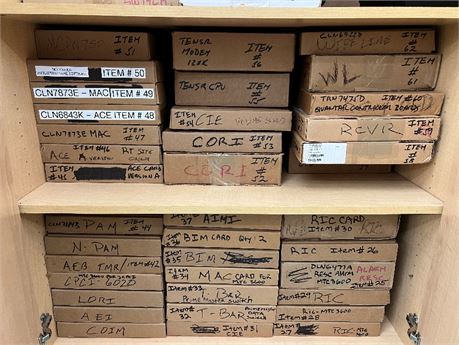 Additional Documents
APPENDIX A - MOTOROLA SPARE PARTS INVENTORY FOR AUCTION.pdf
Starting Bid: $

7,500.00

0 Bid(s)
Description
"Summary of Equipment Lot for Auction
One lot of equipment comprised of 73 sets of surplus spare parts of electronic items used to support the former/decommissioned City of Miami Beach Motorola 800 MHz SmartZone 4.0 public safety radio system. The lot of associated radio system component parts/electronic cards/equipment are listed and described in Appendix (A) and example pictures of equipment from the lot are illustrated in Appendix (B).
All equipment in this auction is in 'AS-IS condition' with no warranty or guarantees of operational status. Equipment may be in varied states of condition, ranging from operational, non-operational, in need of repair, and/or beyond repair.
All items up for auction are one lot. There is a minimum starting bid of $7,500.00 (seven thousand five hundred dollars) and there is no reserve."
·Motorola 800 MHz SmartZone 4.0 parts
·Surplus spare parts / electronic items
·HP PROCURVE SWITCH 2524 J4813A, Power Amplifier, Trunking Controller, Channel Bank Card, Quantar parts, MTC3600 parts, CEB BIM Card, ACE CARD, CORI board console remote, PCI Mezzanine Card, Gold Elite CIE Card, TENSR parts, Gold Elite parts.
For in-person inspection, please call 305-822-5000 Ext.1 and ask for Armando.